A dedicated development team is a widespread business model dramatically gaining popularity in the IT sector. The Eastern European labor market is especially desirable for big tech companies or small startups, which work on long-term projects and think of rational budgeting, time management and cost savings for many reasons. The article is supposed to clear out the pros and specifics of engaging an IT specialist team in Eastern European countries for all those keen on this theme yet still have some questions or doubts.
Smart Solutions knows this trend is the case when you can get more for less and is ready to assist the customer in recruiting a whole tech team (full-stack developers, business analysts, project managers, etc.) using its rich experience, deep knowledge and honed expertise. While concentrating on strategic goals, you can always delegate time and energy-consuming recruiting processes to a reliable partner able to organize all routine work starting from administrative and finishing with tax issues.
Thus, the aim of the article could be reached by clarifying such issues as a general description of the Eastern European IT labor market, a profile of the average Eastern European IT specialist, four main steps in hiring a tech team in the east of Europe, and seven benefits of collaboration with an experienced local HR provider. Let us dive deeper into the topic!
A General Description of the Eastern European IT Labor Market

This overview could help you realize the essence of the IT workforce market in Eastern Europe. Knowing the number of IT professionals in the region, their expertise level, salary rates and value preferences, you can understand if the market is ready to meet your needs.

IT workforce multiplicity
Considering the Eastern European IT labor market, we first keep in mind the countries with the most IT professionals (Poland, Ukraine, Romania, the Czech Republic, etc.). Together, they total about 900K developers. Meanwhile, the region is a massive hub with over 1 million IT professionals. The leading tech centers are Warsaw, Krakow, Lodz, Kyiv, Lviv, Bucharest, Timișoara, Prague, and Brno.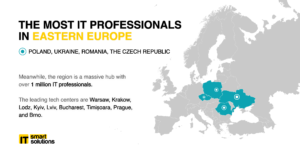 With the beginning of the large-scale war in Ukraine, we could observe some fluctuations in the IT labor market. Some programmers moved to neighboring countries; others preferred overseas destinations. Nevertheless, the situation did not change drastically. And nowadays the IT industry in Eastern Europe reflects previous stable characteristics.
IT pool with profound proficiency
Eastern Europe is well-known for its high-level technical higher education. According to Scimago Institutions Rankings in 2022, three leading positions in this geographic area belonged to Warsaw University of Technology, Czech Technical University in Prague and Budapest University of Technology and Economics. Yearly, the amount of tech graduates in the east of Europe is growing due to the governmental support of this scholarly field. 
Many universities offer English-taught Bachelors, resulting in ready-to-go English-speaking software development engineers. Moreover, students can access additional online and offline training courses and worldwide digital masterclasses, e.g., IT Arena and the Wolves Summit. Many young people here get their first job offers while being students. Therefore, upon graduating from the university, they have not only deep math, logic, management and programming skills but are also efficient practitioners.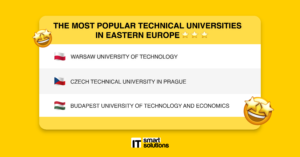 Affordable salary for IT staff
No wonder the Eastern Europe IT labor market attracts many international players with its economical cost for sources. It is widely known today that such IT giants as Apple, Intel, Google, Microsoft, Oracle, etc., built offshore tech teams in this financially inviting environment. No less attractive is this workforce cost for medium and small IT businesses. We will be at least surprised if we compare the average annual IT developer salary in the US, Western Europe and Eastern Europe. The figures speak for themselves. It does not matter what position we consider (junior, middle, senior or team lead); in Eastern Europe, a programmer earns 30% less than in Western Europe and 50% less than in the US, respectively. In Poland, a junior software developer makes about $ 25,000 per year, whereas in Germany – $ 47,000 and $ 78,000 in the US. If it goes about the senior role, this specialist gets $ 62,500, $ 75,000 and $ 120,500 in the countries mentioned above.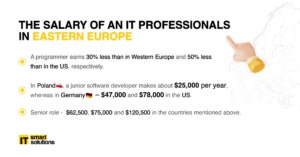 Hourly rate for a middle programmer in Poland starts from 30 eur/h. At the same time, in the Netherlands or Germany it is 40 eur/h or more. Meanwhile, most IT professionals in Eastern Europe (like Poland, and the Czech Republic) work on a B2B contract basis when permanent employment is more popular in Austria, Germany, and the Netherlands. Taking into account simplified taxation and legislation systems for the IT sector in Eastern Europe, we get one more piece of proof of its potential.    
West value-oriented IT manpower
Sometimes cultural differences can cause some problems, misunderstandings and even confrontations in the work process. When a Western employer hires a tech team in one of the Eastern European countries, this issue could be crossed out from the agenda. The Eastern European IT workforce shares Western organizational values (diversity, equity, teamwork, client orientation, efficiency etc.) and approaches to business ethics. They are stress-proof, adaptable and ready to work overtime. They respect the rights of other employees and expect the same treatment for themselves. They are dedicated to permanently improving hard and soft skills during their lifetime. Openness to new knowledge and cooperation within the team make them desirable and hard-to-replace employees. Work-life balance is a core pillar of their mindset.
A Profile of the Average Eastern European IT Specialist
He is a young programmer in his late twenties with proper education and professional background. He is likely to be single and concentrate on self-development and ambitious goals. He speaks at least 2-3 languages, and his English is usually fluent. Quick-minded, gifted, determined and responsible, he is a team player. He is well-motivated and enthusiastic. His "toolkit" includes one or several programming languages (JavaScript, Java, Python, PHP, C#, etc.). He lives in a convenient Western European employers' time zone, and the cost of his services is quite reasonable.
Four Main Steps in Hiring a Tech Team in the East of Europe
We recommend following a four-step path to avoid mistakes and problems in hiring a dedicated development team in Eastern Europe. Here it is.
    Get to know the Eastern European IT Labor Market
You should deepen your knowledge of the subject, namely, analyze supply and demand, their relationship, salary rate, labor productivity, unemployment rates, etc. Examining some up-to-date factors that can influence the market is a good idea, e.g., politics, legislation, and taxation. After that, you can choose several countries in Eastern Europe that best fit your requirements.
   

Be aware of possible challenges
It is necessary to consider some "side effects" of hiring a tech team remotely. First, think of the time zone difference. For Western European employers, there cannot be any barriers. With an average 1-2-hour gap, they can easily organize their working processes without needing "night shifts" for employees, fast and facile visits to the Eastern European office with no jet legs. In the case of the US hirer, it is better to think twice. If a day-and-night business does not bother an employer, and financial advantages outweigh all the other disadvantages, he can try.
Moreover, managing a tech team at a distance can be challenging if you have never done it before. Perhaps, the pandemic experience of teleworking could be helpful but not sufficient. On the one hand, you should trust and control your remote employees and, on the other hand, inspire and support them. The good news is that today many management techniques enable working with a team remotely (communication in public channels, being available for everyone, setting clear expectations, etc.). Do not neglect them.
    Prepare the vacancy list and job requirements
Make a complete list of vacant positions, describe essential duties (building software, collaboration with management), hard and soft skills (proven experience, critical thinking, good communication skills), responsibilities (coding, testing, designing), etc. The more detailed the job description, the more chances to find a perfect candidate.
  Choose your strategy to employ a dedicated development team remotely
There are several strategies for hiring a tech team abroad. Firstly, you can check freelance platforms. Secondly, you can fill vacancies using job boards. Thirdly, you can search for candidates via social networking sites (Facebook, LinkedIn, etc.). And finally, you can apply to recruitment agencies located in Eastern Europe. Each variant has pros and cons, but the fourth is an optimal solution. You do not need to waste your time and resources on interviews with multiple candidates. And the result, unlike the first three options, will be guaranteed.      
Seven Benefits of Collaboration with an Experienced Local HR provider
A trusted domestic partner facilitates recruiting greatly. We know at least seven arguments that can persuade you to rely on an experienced local HR-provider.
   

Years of experience in IT specialists headhunting.

    Knowledge and understanding of the Eastern European IT labor market.

   

Detailed strategy of the entire recruitment cycle.

   

Assistance in the formation of job requirements.

   

Fast recruiting process.  

   

Confidentiality.

   

Constant feedback.
With Smart Solutions, you can take successfully hiring a tech team in Eastern Europe for granted. Our company has been keeping a leading position in headhunting since 2009. In Eastern Europe, we have three offices (Ukraine, the Czech Republic and Poland). Grateful customers (500+) prove our loyalty, reliability and expertise. We deliver personalized customer services and strive for excellence. With respect to client demands, we always do our best.
If you plan to employ a dedicated development team in one of the Eastern European countries, feel free to contact us immediately.