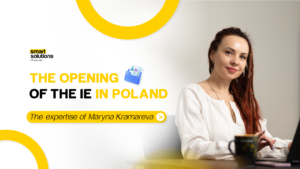 Despite some turbulence in the IT market, the sector continues to develop, adapting to today's circumstances. Poland is one of the Eastern European countries, which is well known for its favorable IT environment. Increasingly, IT companies prefer the B2B format in cooperation with IT professionals instead of concluding an employment or civil law contract. For this, an IT specialist must have an IE. In Poland, the opening and management of an IE has several advantages. What are they? 
Support for entrepreneurs and a favorable business climate
Poland has an attractive and stable business climate conducive to the development of entrepreneurship. The country actively supports small and medium-sized businesses, which helps new IEs turn their ideas into reality. First of all, we are talking about subsidies, tax benefits, etc., which can significantly facilitate the start of a new business.
Access to the European market
Poland is located in the center of Europe, it is a member of the European Union, which opens up the opportunity for Polish IEs to gain access to the large European market. This, in turn, can contribute to business expansion, attracting new customers, and increasing the export of goods and services to the EU market.
Simple IE registration
The procedure for creating an IE in Poland is quite simple and fast. Thanks to this, entrepreneurs can quickly open an IE and start their activities, concentrating not on organizational issues, but immediately on business development.
Loyal tax system
Poland offers a fairly favorable tax system, which can be beneficial for sole proprietorships and stimulate business development. The most common systems for sole proprietorships in Poland are the general taxation system, the linear system and the simplified taxation system. Each of them has its own specifics, which should be taken into account when choosing. However, at the end of the financial year, if the entrepreneur realizes that the existing type of taxation does not satisfy him, he can apply to change the system.
Available accounting support
The costs of accounting support for sole proprietorships in Poland are significantly lower than those of legal companies. In addition, the cost of accountant services in Poland is lower than the cost in Western Europe. Also, the requirements for providing annual reports and keeping records in general are simpler for IEs.
Low costs compared to other European countries
In Poland, the level of costs for renting office space, housing and coworking may be lower compared to other European countries. And in general, the cost of living (consumer goods, products, leisure) is significantly lower than the average costs in the EU.
Security and stability for entrepreneurs from Ukraine
In the conditions of war and instability, the opening of an IE in Poland can increase the level of business security and protection. Such a step reduces dependence on the situation in Ukraine and provides access to all the advantages listed above.
As we can see, Poland offers attractive conditions for successfully opening and running an IE. Here you will be able not only to implement your business plans and ideas but also to become part of a dynamic and promising business environment.