Personnel records management and document flow are important components of any enterprise. Using these tools, businesses can hire and fire employees, send specialists on business trips and vacations, accrue bonus payments to employees, etc. 
"In each country, document management must be carried out in accordance with current legislation, which requires regular monitoring of changes and prompt adjustments to the personnel documentation used. The military aggression of the Russian Federation in Ukraine forced many Western companies to leave the Russian market, and many of them rushed to the Middle Asia region, primarily to Kazakhstan. However, the document management system in Kazakhstan is significantly different from the usual one for Western businesses. Therefore, many international companies have already faced certain problems,"- remarks Iryna Shpak, Head of Outstaffing in Kazakhstan and Middle Asia at Smart Solutions.
To avoid such troubles, it is necessary to thoroughly understand the specifics of the document flow in this country. That is why we decided to clarify the nuances of Kazakh document management and help all those who are interested in this topic. 
Peculiarities of Hiring Employees
A lot depends on the nationality of the future employee. If the company plans to hire a citizen of Kazakhstan, there will be no problems at all. Hiring can take place on a day-to-day basis. It will only be necessary to comply with certain formalities, in particular, to check identity documents, obtain an individual tax number, and an application for employment, sign an employment contract, draw up an order to hire a new employee, etc.
If the future employee is not Kazakh but is a citizen of a country that is a member of the Eurasian Economic Union (Armenia, Belarus, Kazakhstan, Russia and Kyrgyzstan), the recruitment procedure will be more difficult. Firstly, a person has to obtain a TRP (temporary residence permit) at the Migration Service of the Republic of Kazakhstan, which can take from 1 to 5 business days from the date of registration of documents. Usually, a temporary residence permit based on work is issued for no more than a year, but with the possibility of extending an infinite number of times. At the same time, according to the updated regulations, the TRP is not canceled when a foreigner leaves Kazakhstan. However, the departure of a foreign employee must be reported to the Migration Service within 3 days, otherwise, the company may face serious penalties, up to a three-year ban on hiring foreigners. The further procedure for registering an employee for work is no different from that described above.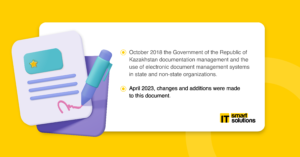 In the case of employment of any other foreigner, the company must purchase a quota from the state that will allow the foreign citizen to work in Kazakhstan. In 2023, the total quota for recruiting foreign labor force in Kazakhstan is set at 0.24% of the labor force in the republic or 22.2 thousand units. It should be noted that the quota may change from year to year. Thus, this year the quota for recruiting foreign workers has decreased since in 2022 it amounted to 0.31% of the labor force in the Republic of Kazakhstan. The amount of the fee depends on the position of the foreigner and the type of activity of the company. So, in 2022, the average fee amounted to about 600,000 tenge. Also, it is worth remembering that in Kazakhstan there are no labor books.
Main Features of Personnel Document Flow
First of all, it is worth considering the fact that document management processes in Kazakhstan are poorly automated. We can say that automation, compared with Western countries, is at an early stage. For foreign companies, electronic document management has long become commonplace. Storing all documents (acts of completed work, employment contracts, staffing schedule, job duties, etc.) in a single electronic system, as well as signing documents with an electronic signature has long become the norm for advanced countries. In Kazakhstan, paper documents are not surprising at all.
Moreover, in electronic format, documents can be stored in different programs (Excel, Word, etc.), which are not synchronized with each other, which greatly complicates the document flow. Undoubtedly, some more progressive companies work based on 1C or SAP, but there is a lack of local personnel officers who could use these modern tools efficiently. In October 2018, the Government of the Republic of Kazakhstan issued a decree approving the rules of documentation, documentation management and the use of electronic document management systems in state and non-state organizations. In April 2023, changes and additions were made to this document. All this is evidence of the country's gradual adoption of electronic governance and orientation towards advanced world technologies. However, it is obvious that these changes will not happen overnight.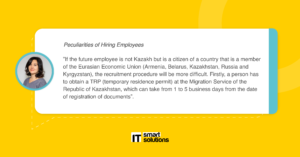 Another important aspect that needs attention is the language of document management in Kazakhstan. Recently, the company's official documentation must be presented in Kazakh. Many businesses are used to keeping documents in Russian or English, but today all papers must be duplicated in Kazakh as well.
There are no quotas for priority employment of certain categories of citizens, for example, the disabled. In general, violations in personnel records are not severely punished in Kazakhstan. But there are several issues related to it, to which one must be as attentive as possible. First of all, we are talking about the taxation system in the country. Non-payment of taxes, late payment of taxes, and non-payment of VAT can lead to the application of serious fines and penalties, up to the freezing of company accounts, as a result of which timely payment of salaries, vacations, bonuses, etc. will be impossible.
Payroll taxes are low, but there are many of them, neglecting one can lead to violations, which in turn can cause problems with the tax service of the Ministry of Finance of the Republic of Kazakhstan. There are different ways of calculating salary: direct and reverse calculations. Each of them has its own nuances, ignorance of which, again, can cause problems. Interestingly, it is impossible to return the excess salary calculation in Kazakhstan, this procedure is not established at the legislative level. The employee can refuse to return overcharged funds, and the employer has no leverage over the employee in this matter.
A fairly common practice in Kazakhstan is the holding of conciliation commissions. If the worker is dissatisfied with some aspect of the relationship with the employer and believes that his rights are violated, he can file a complaint with the court. But this is preceded by a meeting of the company's conciliation commission. The latter considers the worker's appeal, for example, regarding the recalculation of earned salary, and develops its conclusion, in which it either confirms or refutes the correctness of the worker's position. Meetings of such conciliation commissions take place once or twice a year.
Obviously, it is not easy for a new foreign company in the Kazakhstan market to set up work on its own, especially in the aspect of document management. That is why, the logical step is to contact the provider of the relevant services. But which provider to trust? That is the question. We have highlighted several important aspects that should be paid attention to. Here they are.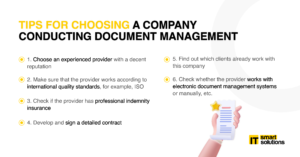 Tips for Choosing a Company Conducting Document Management 
Choose an experienced provider with a decent reputation, who has been working on the market for 5 years or more.

Make sure that the provider works according to international quality standards, for example, ISO.

Check if the provider has professional indemnity insurance.

Develop and sign a detailed contract. All parties must be clearly aware of the call of their responsibility.

Find out which clients already work with this company, and ask for recommendation letters.

Check whether the provider works with electronic document management systems or manually.

If the provider is adept at automation, see if it can provide you with a system administrator to support the software upgrade.

Order a package of services (payroll, labor protection, personnel documentation audit, etc.) from one provider, this will ensure the systematicity of the entire document flow.

Do not chase cheap services, quality services can only be provided by highly qualified specialists, and their work cannot be cheap a priori.
Personnel Document Flow by Smart Solutions
Smart Solutions has been on the market in Kazakhstan since 2012. During this time, we have gained a reputation as a responsible, reliable and high-class provider. We value it immensely. We provide a full range of document management services, including audit and restoration of HR documents, personnel accounting from scratch, creating standard forms for staff charts, leave schedules, timesheets, etc.
Our experts may provide document management services in the Smart Solutions' office or directly in the client's office, with full confidentiality guaranteed. We know the latest changes to the Labour Code of Republic of Kazakhstan, and are ready to counsel you on all issues related to personnel document flow, including complex dismissals. We work with different human resource management systems that may be in use at the client company – 1C, BOSS-Kadrovik, SAP, etc. By delegating document management functions to Smart Solutions, you can receive high-quality services from top-qualified professionals at a lower cost compared to employing your own workforce, as our services are less expensive than hiring some full-time HR employees in-house.
Moreover, you can reduce dependence on human resources specialists in case of their sick leaves, vacations and dismissals and minimize tax risks in case of any errors. Outsourcing personnel document management to Smart Solutions is the right choice, proven by practice. We are trusted by over 200 companies in Kazakhstan. Become our next client and we will achieve success together.