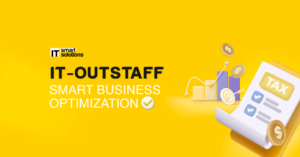 Recently, the EU and Western countries in general have shown a trend towards downsizing of IT specialists working at field-specific and relevant companies. In 2022, some 160,000 IT professionals lost their jobs across the world. Apparently, this was only the beginning of a poor optimization: during the first two months of this year, 100,000 IT specialists were laid off already.
One of the key reasons for such mass dismissals is high wages, which in turn is caused by high taxes. According to Glassdoor, an average annual income of IT developers in Europe is about €50-60 thousand. And in case of countries with the most developed IT sector (Great Britain, Germany, Switzerland, etc.), average annual salary for such professions can reach €70-80 thousand.
The fast-paced global digitalization of all spheres of human life is becoming an objective process of social development, which will be progressing in the next 10-15 years. Thus, laying off the IT specialists seems like a rather hasty and primitive decision, as the demand for them will only grow in the long term. So, are there any alternative options to such drastic measures?
In fact, there aren't any problems that can't be solved, so other options are available. IT Smart Solutions is convinced that outsourcing is one of such effective options to avoid this problem. Indeed, an average level of IT developers' wages in Ukraine comprises about €24,000 per year, but in terms of knowledge, skills and expertise, Ukrainian IT specialists are no worse than their colleagues across the globe. At the same time, the job openings to candidates ratio in Ukraine is 1:8.
Obviously, it's impossible and probably unreasonable to replace all European IT workers with Ukrainian experts. But moving a back office that does not have direct contact with the customer to Ukraine seems like a quite logical step.
IT Smart Solutions has all necessary resources to provide foreign IT companies with fully functioning teams without legal presence on the market and at minimum costs. In addition, we have all means for uninterrupted operations during the wartime (power generators, Starlink terminals, bomb shelter with Wi-Fi, etc.). We can swiftly recruit specialized staff with required skills, covering the administrative support, salaries, health insurance and taxes, etc. If necessary, we can arrange office operations and provide the equipment for its efficient functioning. As a customer, you can save on average 50-60% of costs on the team of developers. Sounds cool, right?
As a result, you get a team of top-notch IT specialists and forget about recruitment and administration, communication with regulatory bodies, etc. You supervise business processes yourself, while everything else is delegated to a reliable partner.
IT Smart Solutions will be happy to help you in optimizing your IT staff in a smart way. For more details, contact here.