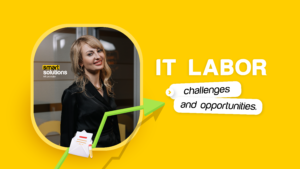 The IT market is going through challenging times. The global trend of reducing IT industry workforce due to the easing of the COVID-19 pandemic. 
International companies are experiencing serious concerns that due to the war, Ukrainian specialists may not be able to perform their duties effectively, resulting in a significant decline in demand for our IT professionals. Today, we are witnessing an unprecedented situation: there are 80,000 candidates for 7,000 vacancies. Just a year or two ago, there were 100-150 job offers per IT professional. In expert circles, Ukrainian IT specialists have even been compared to experts from Silicon Valley, thanks to their hard work, responsibility, and high-quality work results.
"In this challenging period for our country, the IT sector is experiencing an evident crisis. But there is hope for progress, primarily through the support of partner countries (USA, Israel, EU countries) towards the domestic IT industry. Thanks to their tolerant attitude, we receive orders specifically for Ukrainian IT specialists, including beginners without extensive background. Currently, we are actively recruiting experts for 50 positions from international companies," commented Olena Kutsokon, Head of Recruitment Department at Smart Solutions, on the situation.
In reality, this support is worth a lot. Although international companies are not currently opening offices in Ukraine, Ukrainian IT specialists still have the opportunity to work with decent social benefits from international employers, even during wartime. Furthermore, a significant number of employers are abandoning time trackers as they wholeheartedly trust our IT professionals.
The situation with the Ukrainian IT market is difficult to predict, as much will depend on the course of events on the frontlines. There are many risks involved, and clients are interested in guarantees that, unfortunately, the domestic IT segment cannot provide 100% despite having well-equipped bomb shelters and the unwavering dedication of IT specialists to their work.
I would like to advise international companies to dismiss their doubts and fears because the war has been ongoing for over a year, yet the IT industry remains one of the most prosperous sectors of Ukraine's economy. There is an abundance of specialists (programmers, engineers, project managers, etc.), and their expertise has not diminished due to the war. On the contrary, their motivation has significantly increased.
The crisis will pass, just as the war will eventually come to an end. Ukrainian IT professionals will continue to be among the most highly skilled in the world. The attention of international companies to the Ukrainian IT market can greatly contribute to these positive developments.