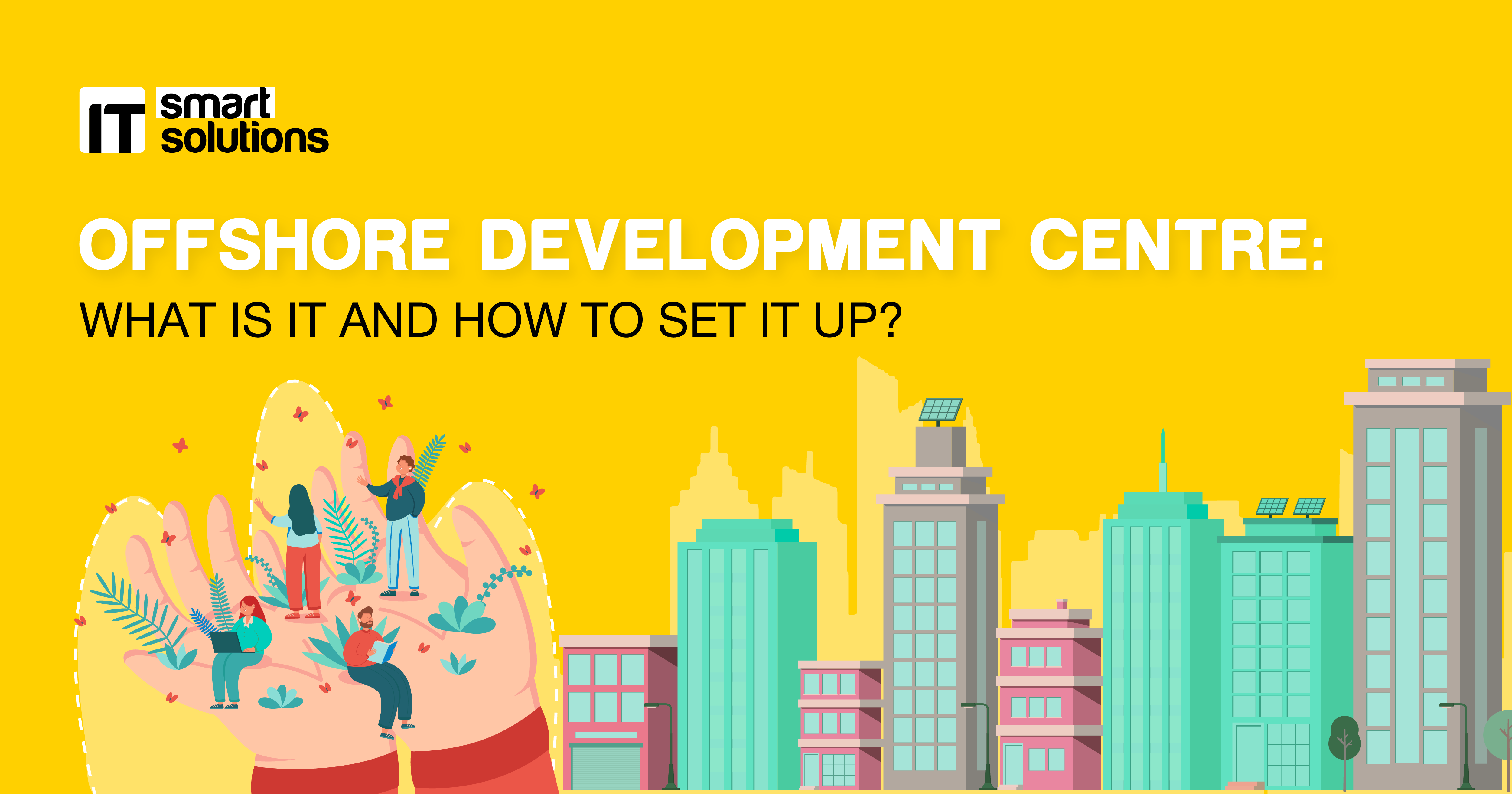 In recent years, the IT sector has become even more global and multinational, with this trend continuing. Instead of working with software development outsourcing (ODC) agencies, many technology-oriented organizations are now creating their own development centers or turning to intermediaries to facilitate and speed up the process. Because it offers more advantages than conventional outsourcing, this approach is directly viewed as an improved solution for the IT industry. In this article, we'll examine offshore development from several angles and outline the primary phases of setting up an offshore development center.
Table of content
What exactly is a dedicated offshore development center?
How do offshore centers work?
Why do we need offshore development centers?
Benefits of having an offshore development center
Drawbacks of having an offshore development center
Offshore development company vs outsourcing
How ODC differs from other engagement models?
How to establish your own ODC
Mistakes and risks in starting the ODC
Set up your offshore development center in Ukraine
What Exactly is a Dedicated Offshore Development Center?
An offshore development center, or ODC, is considered an office with a team of experienced engineers and software programmers. Such centers are usually opened in countries with many workers, with lower salaries and taxes, than in Western Europe or the United States. Previously, it was usually Cyprus or Luxembourg. However, Poland, Ukraine, and Kazakhstan have become increasingly popular recently. This is mainly due to these countries' rapid development of IT sectors. Establishing an ODC abroad is a way for the main company to set up a branch at a lower cost while keeping the vast pool of talented employees. The ODC has proven to be a successful business strategy for established IT product manufacturers and new startups. It facilitates the establishment of a company's presence in a foreign state, improves access to IT professionals, and cuts costs all at once. For instance, large corporations like Grammarly or Samsung have already employed this strategy and have their ODC offices in Kyiv, Ukraine.
How Do Offshore Centers Work?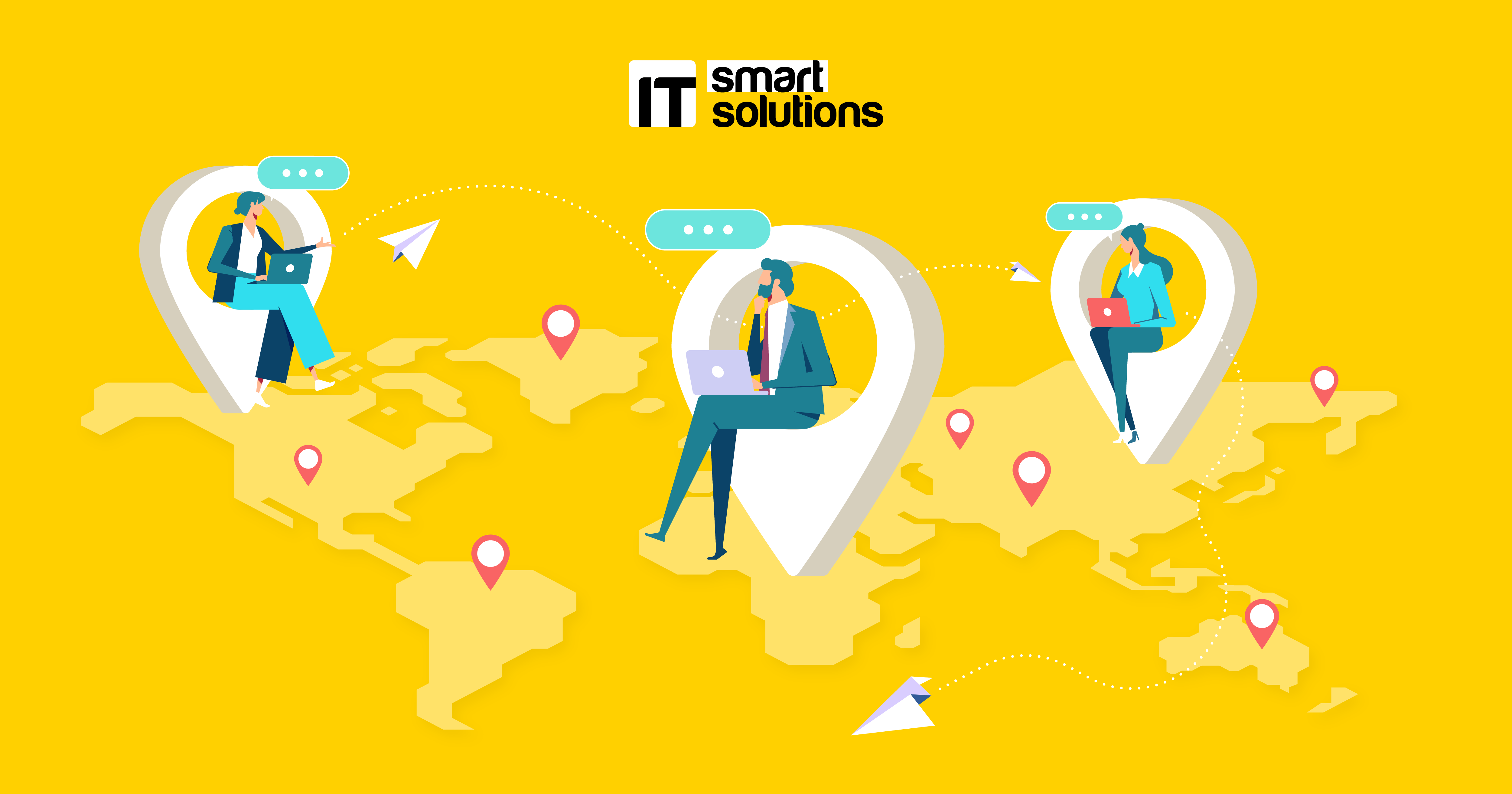 The ODC team often comprises various experts, such as software engineers, back-end and front-end developers, web and UI/UX designers, QA engineers, technical personnel, and team leads. The roles and organizational structure of the offshore staff are left to the head office to decide. However, offshore development teams represent a tech company's main division. Thus,  the ODC team will collaborate with the corporate headquarters under the same brand and share a set of engineering objectives. I.e., IT professionals who work remotely accomplish the same essential duties and tasks as the rest of the internal staff.  
Additionally, it should be noted that operational staff is no longer required in ODCs. This is because local service providers can handle all other tasks by themselves, including accounting, HR management, and legal assistance. Moreover, the local suppliers would advise you on proper offshore conducting and assist with legal compliance.
Why Do We Need Offshore Development Centers? 
Different kinds of technology organizations can benefit from using ODCs depending on their needs and goals. The major aspects all the development centers have in common are the motivation to create their own digital products and introduce new technical innovations to the public.
Startups producing a new application or revolutionary technology will need professional and experienced engineers. Due to the difficulty in local recruiting such outstanding specialists, co-founders are likely to search for devoted offshore designers and developers. By making this choice, one can uncover the best talents globally. For example, well-known companies like DataArt, Samsung, Grammarly, Oracle, and even Google are already working with Ukrainian developers. This is because it was hard for them to find and hire skilled software engineers elsewhere, while Ukraine is known for its developed IT sector.
Setting up the ODC might be a valuable option for established technology businesses. On the one hand, such enterprises find it quite challenging to grow up and explore new foreign markets because of the limited funds and resources available in one location. That is why, on the other hand, these factors led some multinational technology companies, like BigCommerce, Oracle, and Reddit, to hire professional offshore software developers. That decision helped them to boost IT delivery and in-house capacities. 
Benefits of Having an Offshore Development Center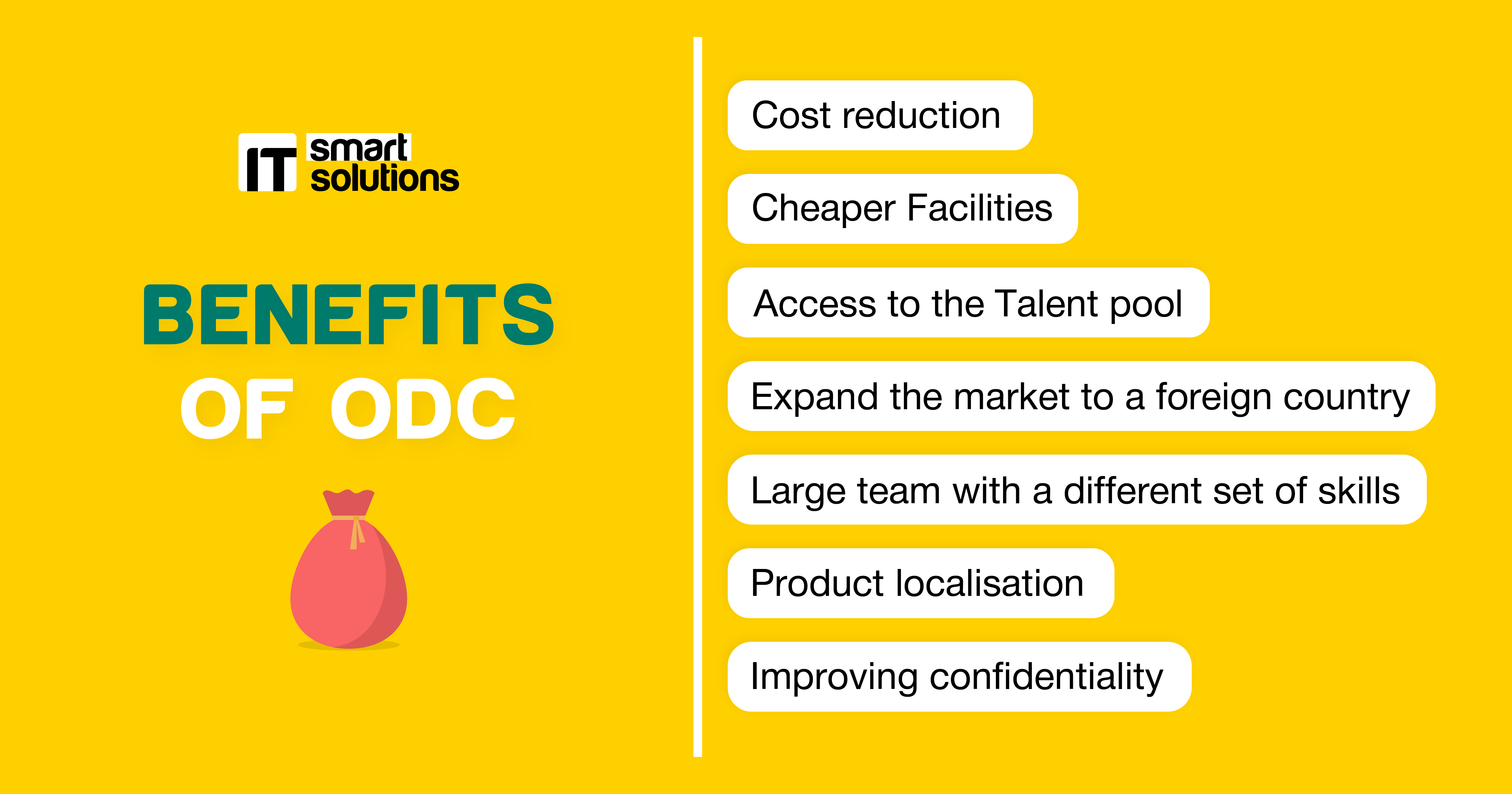 If you are reading this article, you are most likely interested in opening an ODC of your own. If so, let's learn more about what benefits setting up the offshore development center may give you. We have already discussed the advantages of cost savings and a variety of skilled software experts. However, there are even more to come. The main benefits of having an offshore development center are:
Personal HR brand of the company;
Speed and flexibility of the production process;
Reliable engineers;
Reliable data protection.
Software companies need to launch their own brands into new markets. This indicates the potential of directly hiring IT specialists for your business and applying your corporate rules into practice. Technology businesses that actively advertise their own brand are usually better and faster at hiring potential talents. 
There is an additional opportunity for being more independent while working with offshore software development centers. You gain total control over the development team and all the engineering processes while working under your personal HR brand. Your product development process is private, lowering the risk that someone else may violate your intellectual property rights.
Better engagement can also be achieved through direct team management. You will get the same strong commitment from your design & development team as you would from your in-house team. Ukrainian software engineers actively express interest in business development and joining the organization due to their entrepreneurial spirit and mindset.
Drawbacks of Having an Offshore Development Center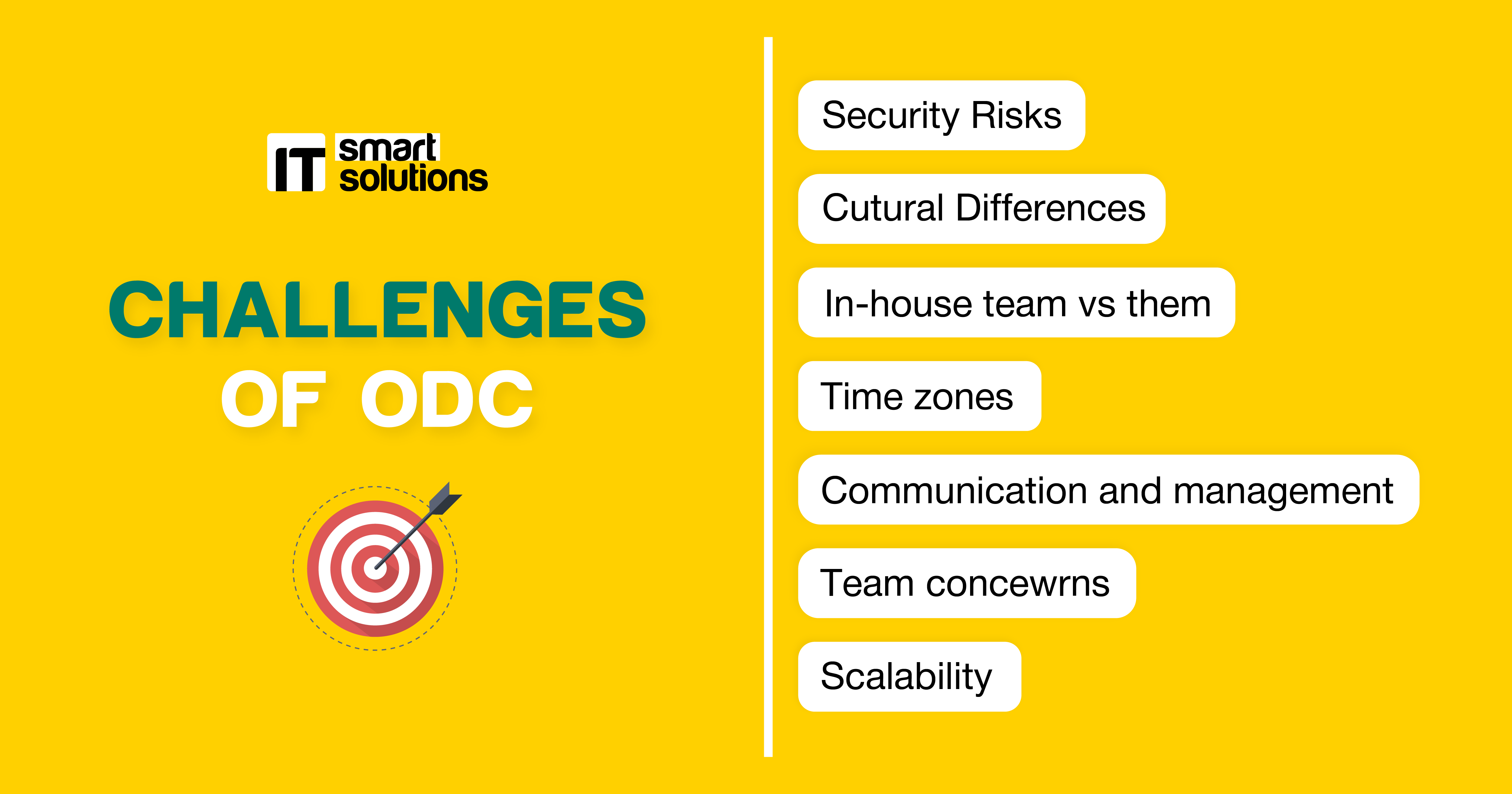 Despite the numerous advantages, tech organizations should be aware of the possible risks to consider when setting up ODCs. This contains challenges that might be hard to prepare for but easy to avoid if the organization is under the professionals` control. Let's have a closer look:
Disparate services;
Protracted hiring;
Uncertain prices.
There aren't many companies that provide complete services for establishing ODCs. This would compel you to seek the advice of numerous law companies, accounting experts, and financial advisers, all of whom would offer opposing viewpoints. Find a service provider with complete operational management experience to avoid this. You will have access to a variety of experts that will develop a single, all-inclusive solution that will be optimal for your company.
Closing various IT specialist positions might be challenging when working with an offshore development center. This can be due to your vendor's poor recruitment practices or a lack of local market knowledge. A capable recruitment firm with well-defined KPIs, obligations, and assurances will lower the risks and simplify the hiring process, making it faster and more effective.
Use variable pricing plans to improve the cost-effectiveness of your offshore development process. This should allow you to choose the services you need right now and pay for the ones you use the most. Change your offshore IT services supplier if your invoice doesn't include precise information about the costs. 
Offshore Development Company vs Outsourcing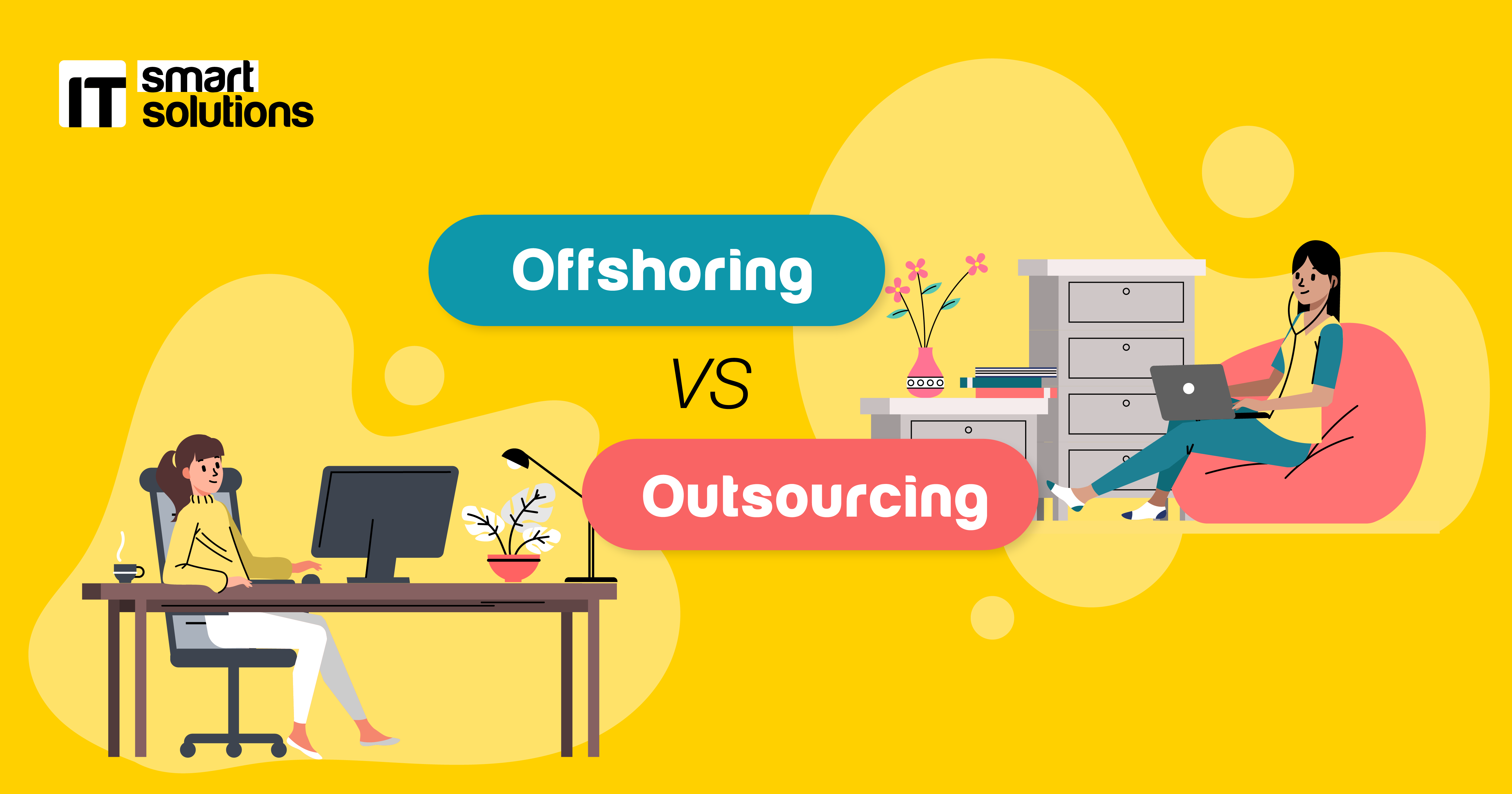 Quite often, IT outsourcing is compared to offshore IT development. But why? Is one better than another? The answer is yes… and no. The point is that both of these business strategies are widely used by software companies, which decided to work in countries with more favorable taxation policies. Yet these models are polar. Each of them has its strength and weakness. Let us discuss some of their key differences: 
Mindset
Software developers generally work for production enterprises with a lot of passion. Offshore development centers, which are distinct from outsourcing, allow developers to contribute to the IT product and become its integral part. This often attracts some exceptional IT professionals with a product mindset who are willing to devote more time to their jobs.
 Costs
As long as your project won't scale, outsourcing your code is economical indeed. However, as soon as you start owning your own ODC, it might completely shift the situation for a larger project. Offshore development centers have a low initial investment but offer a high ROI over time. Additionally, the accessibility of prices while working with your partner becomes a second benefit.
Team management
As a rule, their project managers strictly supervise outsourced software developers.  As a result, as a customer, one cannot directly affect the development process. The right to reorganize teams and allocate team members to other projects remains with the outsourcing company. In counter, when working with an offshore development center, you will remain the team's single employer.
Talents
Professional software engineers are keen to work on one specific product since they do not want to "spread themselves out" over numerous projects with almost equal amounts of work. A product company offers several job opportunities to its talented employees. They are aware of the chance to improve their technical proficiency and share their knowledge with foreign tech experts.
How ODC Differs From Other Engagement Models
The path to success in creating a developed and effective offshore development center is tough. But the key points are strongly linked to experienced and dedicated development teams and effective build-operate-transfer models (BOT).
Project outsourcing is usually considered a typical relationship model between an IT company and a service provider, usually for a limited, short-time period. Outsourcing a project might be a reasonable solution for IT businesses that want to start small.
Dedicated team. A product company engages committed offshore developers once it is satisfied with the standard and cost of doing business in the offshoring region. This service often provides you with temporary access directly to developers.
A more comprehensive approach that is comparable to the ODC model is build-operate-transfer (or simply BOT). It recommends making a deal with a local business to build, run, and then hand over a software development center to you personally. BOT, however, faces numerous risks and difficulties related to the transfer of knowledge and people in its ultimate stage.
The most cutting-edge type, the offshore development center (ODC), offers plenty of room for independence. Your company can be upgraded to launch an offshore development office at any stage. Although operational management is still the biggest issue, one should remember that with the help of a trustworthy partner, you can overcome any obstacles and concentrate on your IT product.
How to Establish Your Own ODC
If you have decided that you are ready to set up your own offshore development center but don't know how to start, then this guide is for you. Follow the steps described below to know how to properly establish and develop ODC and choose which offshore strategy to choose:
Decide on location
Eastern Europe and Asia are home to several outsourcing locations that are highly attractive to IT organizations for financial reasons. However, in addition to cheaper operational and personnel expenses, companies should consider local cultures and technical knowledge. This is essential for managing teams remotely and effectively. Effective communication will prevent cultural or work ethic challenges.
Find a reliable partner
An offshore development center's development involves extensive research for each new phase. Estimating risks and creating a win-win strategy are the essential keys to success. You will need reliable assistance from local businesses to organize your business and stick to local laws. A credible partner will be essential in assisting you in navigating the local business environment.
Hire an HR provider attorney
Before signing a lease agreement, you need legal advice because the entire negotiation process requires a thorough knowledge of the country's internal legal system. That is why you need to find someone who guarantees you the best contract terms.
A good solution would be to find a professional HR provider. Such a person will be able to help not only with hiring qualified developers but also to simplify work in other areas, for example: search for office space, staff, and organization of accounting work.
Find an office
Start looking for an office space for the future crew while recruiters are acquiring IT talents for your business. Make decisions on the site, parking spaces, security system, office layout, furniture, etc. Experienced real estate managers will recommend many beautiful places depending on your needs.
You need furnishings and the appropriate IT infrastructure to complete your new workplace. Everything needed for a successful offshore development center to be established in Ukraine is included (i.e. computers, software, security system, servers, and internal correspondence service).
Seek for professionals
It's vital to talk to headhunters about their ideal software developers. Preparing good, professionally made-up interview questions for potential candidates is also crucial. Hiring an expert team will also give the customer pay scale analysis results. For instance, they may show information like base pay for JavaScript developers, average PHP developer salaries,.NET developer salaries, UX developer salaries, etc.
At this point, employment offers are ready to be sent. The offshore development center officially launches when the first staff begins working there! It also requires integrating new hires, which is frequently followed by in-person meetings at the headquarters.
Organize HR and accounting payroll
These are crucial operational management components to help your new offshore development center run smoothly. Remember that you need someone in charge of handling salary payments, cash transfers between the ODC and its central office, health insurance, and vacations.
Mistakes and Risks in Starting the ODC
One must consider many factors when setting up their own offshore development center. When starting the development office abroad, we advise avoiding the following major missteps to make your experience go smoothly:
Ignore the location`s minor details
A sizable workspace or an eye-catching view shouldn't irritate your eyes. Before the purchase is finalized, some important factors, such as soundproofing, sunshine, air conditioning, and 24-hour access, are sometimes overlooked. Check all important details in close consultation with property managers.
Hire several recruitment companies
Tech businesses sometimes hire multiple agencies at once to expedite the hiring process. However, this is a losing tactic, as prospects only receive one identical interview invitation. It will produce subpar results and damage your reputation as an employer.
No legal intellectual property rights
Even though you work with a dedicated group of developers, a non-disclosure agreement is automatically signed. Intellectual property creators must monitor their legal rights from the beginning. To create a complete agreement that will stop the exposure of your private data, consult IT lawyers.
Ignore branding
Start employer branding if you want to really speed up the hiring process. Your business will attract more potential and talented employees if you portray it as a pleasant workplace. The first thing to realize is that employer brand initiatives for outsourcing must be tailored to the specific IT community.
Non-flexible organization policies
Your company's HR procedures might be effective for in-house teams, but your committed offshore devs are situated in a different nation with its own labor laws and national holidays. Due to this, be flexible and talk to each member of the outsourcing team about the possibility of taking a vacation or day off.
Direct Income
The kind of work contract affects how other legal processes, such as obtaining visas, are handled. Because of the strict rules in the US embassy, a developer who works for you as a contractor from another country and receives payment directly from the head office is unlikely to be granted a business or travel visa to the US.
Comparison analyses of offshore countries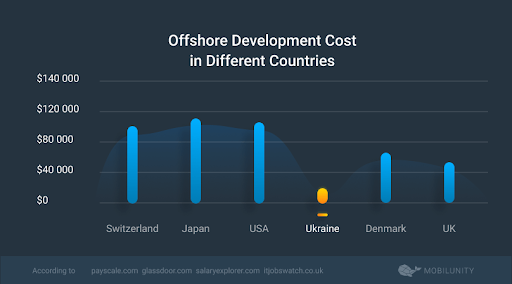 The world is home to several offshore locations. Asia and Eastern Europe comprise the core of the world's developing IT nations, where the local tech sectors are seeing a rise in the number of developers. India, China, Romania, Poland, and Ukraine are the most developed nations in these areas and are preferred by foreign investors. But why do so many tech firms establish an ODC facility in Ukraine?
Ukraine
Ukraine is considered to be a modern state located in the very geographical center of Europe. It is especially well-known for its experienced IT specialists, of which there are nearly 285,000 experts in the software design & development sphere.
Ukrainian academic institutions educate more than 25,000 graduates in computer studies each year, giving the regional tech industry access to educated IT professionals who rise fast in their engineering careers and constantly learn new tricks. That what make them true experts. The average age of a software engineer is 28, which says a lot about the bright future of the local market.
Talking about salaries in IT, the average is $ 2,000 – 3,500 (including experienced and beginners). Salaries with only 5+ years of experience and Advanced+ English are at $ 4,000 – 6,000.
There are no unique bases. All contacts with a competent approach can be found in social networks. LinkedIn is the best contact database. What helps reduce employee turnover, according to IT recruiters?
the atmosphere in the team – 87%;

the feeling of personal contribution to the development of the company – 70%;

general activities, team building, and other – 70%;

non-material motivation – 52%;

high salary – 43%;
Businesses have accumulated a lot of technical debt due to the rapid digitalization of businesses during the quarantine period. Therefore, the demand for developers is growing. At the same time, companies have become easier to relate to remote work: costs are lower, and productivity, with the right organization, remains at the same level. And the employees themselves are no longer in a hurry to the office. Many businesses have decided to search for talent without borders – often, it's even faster and cheaper. Therefore, the demand for developers is growing in general and in Ukraine.
The tax system
To create favorable conditions for attracting significant investments to Ukraine, there is the Law "On State Support of Investment Projects with Significant Investments in Ukraine." According to this Law, for the implementation of such an investment project in Ukraine, state support is provided, the total volume of which can be up to 30% of the planned volume of significant investments. In particular, state support is provided to large investors in the form of:
exemption from paying income tax for 5 years;

exemption from import duty and value-added tax on new equipment and accessories imported for the implementation of an investment project;

reduction of land tax rates and rent for state and communal land or exemption from payment of land tax.
It is worth noting that in Ukraine, in addition to the general taxation system, which provides for the payment of all taxes and fees defined by law, there is also a simplified taxation system, which is designed to promote the development of small and medium-sized businesses, because it significantly simplifies the procedure for paying taxes and declaring profits.
Thus, the third group of the simplified taxation system, the most common among legal entities, allows its use, provided that the turnover of such an enterprise does not exceed about 210,000 euros per year. If this basic requirement is met, then the enterprise has the right to use a fixed rate of the single tax of 5% of the income in the case of including the value-added tax as part of the single tax or a rate of 3% of the income if the enterprise is a payer of the value added tax cost. A single tax payment significantly facilitates the declaration and administration of income, which is often attractive to businesses in the first stages of their operations.
Poland
Poland has one of the most progressive IT sectors among the 23 countries of Central and Eastern Europe. There are more than 50,000 software companies here, and more than 800 of them are focused on the international market. At the beginning of 2022, according to Clutch, there were more than 250,000 IT people in Poland, and their number is only growing. 
The Polish IT market is saturated with both local and foreign companies. As in Ukraine, service and product sectors are growing here, and many new startups have appeared. It is a dynamic multicultural environment. Today, Poland, which has a population of 38 million people, employs about 430,000 IT talents, has more than 60,000 companies, and the experts of Computerworld estimated the market volume last year at $17.5 billion. The biggest players in Polish IT are outsourcing companies, and the main IT hubs are large cities with a concentration of technical universities.
The Polish market is similar to the Ukrainian one regarding talent pool and technologies. At the same time, certain limitations should be taken into account when working in the Polish market:
We note that Polish specialists usually react more slowly to proposals for cooperation because, unlike Ukrainians who widely use messengers, they choose e-mail for communication. Therefore, the process may take several weeks.

The company dismissal process usually lasts at least a month, so filling vacancies quickly is difficult.

In addition, the term of work registration in Poland is usually from one to three months.
The tax system
Unlike Ukrainian tax policy, the Polish tax system is more complicated and is also characterized by higher tax rates. Mostly because of its variability and administration. The most common type of relationship between an employee and an employer in Poland is the "Umowa o praczu" — an employment contract that provides maximum protection and guarantees to the specialist. The agreement provides for two tax rate options, which depend on the amount of annual income: 17% for incomes, the amount of which does not exceed PLN 120,000 (25,000 EUR) during the year, and 32% in all other cases.
As for the non-taxable threshold, its amount is PLN 8,000 (1,660 EUR). For those who earn more than PLN 8,000, this amount is reduced proportionally (the higher the income, the lower the tax-free amount). All income will be taxed if an individual receives a taxable income of PLN 127,000 or more.
PIT (Personal Income Tax) is a personal income tax that is levied on every person who receives income in Poland based on employment contracts, subcontracts, and contracts for the provision of services. Every year, an employee who received income in Poland must independently prepare a tax declaration, submit it to the tax office, and pay tax by April 30. You must submit a declaration even if you do not currently work and are not in Poland but received income here last year.
Kazakhstan
The volume of the IT market of Kazakhstan at the end of 2020 exceeded $1.35 billion, and the number of companies representing this industry working in the country counts more than 10 thousand. The IT sector of Kazakhstan receives a lot of state support, providing ample opportunities for the digital transformation of the public and commercial sectors. The main focus of this large-scale development was the Digital Kazakhstan program launched in 2018 and local technology centers created to support start-ups.
Kazakh IT companies have strong engineers who provide smart parking as a service. The fact that the founders of Yandex came from Kazakhstan is evidence of the high level of Kazakh IT professionals. The market of Kazakhstan allows startups to conduct their development and interact with large local and international corporations and opens up opportunities to enter neighboring markets, such as Russia and China.
Thus, over the past four years, the number of vacancies in the professional field of IT has increased by 88.5%. In the first half of 2022, local employers posted about 20,000 vacancies. The most common specializations in the vacancies of employers are:
Engineer

Programming, Development

Enterprise Management Systems (ERP)

web engineer

webmaster

System Administrator

Support, Helpdesk

Telecommunications

Network technologies

Analyst

Gaming Software

Computer security

System Integration

Testing
As salaries rise, so do job seekers' salary expectations. In 2022, IT professionals expect an average salary of 535,000 KZT (1,120 USD), which is 78% more than in 2019. At the same time, the average salary in Kazakhstan for the first half of 2022 was 387,000 KZT (800 USD).
Due to quarantine and the widespread transition to remote work, competition between employers for specialists has intensified. Global players with "foreign" salaries came to the local markets. In many companies, the process of monitoring market salaries and revising specialist salaries is a normal process. It should be noted that:
In the field of IT-outsource, the highest proportion of people working for foreign companies is 40% of respondents.

Annual bonuses are more often practiced in Kazakhstani companies than in foreign ones: 30% versus 24%.

More equipped and experienced specialists leave for foreign companies. 40% of those working for foreign companies are senior specialists.
The tax system
The simplification of the payroll tax system in Kazakhstan is 11% for all employers. The fiscal approach to taxation of citizens' incomes in Kazakhstan is also striking in its simplicity — the general (10%) rate, as well as a 5% rate, is applied to income received in the form of dividends. The main distinctive qualities of Kazakhstan's taxes are transparency and ease of calculation. And also – the obligation to pay taxes for all taxpayers. Due to such, at first glance, unpopular step, the tax base has increased significantly. At the same time, responsibility for using "gray schemes" increased. In Kazakhstan, they are almost non-existent and extremely criminogenic – it is very disadvantageous and dangerous. The corporate income tax rate is currently 17.5%
The net income of a non-resident legal entity operating in the Republic of Kazakhstan through a permanent representative office is subject to taxation at the rate of 15%. Net income means taxable income minus the amount of accrued corporate income tax.
Conclusion 
Unlike other companies, we advise you to create your own production offshore software center, fully adapted to your needs. The first steps include finding a suitable workplace, hiring qualified engineers, HR payroll, and providing legal and regulatory services in Ukraine, Poland or Kazakhstan. A technology company must hire developers as independent contractors and have the proper corporate structure to implement a particular tax strategy.
To avoid issues with the company's legal registration and care for payment of taxes and their accounting in Ukraine, you will need a reliable service provider to perform all operational tasks, including the selection of IT specialists in Ukraine, so that all these benefits function properly. Remember that you can always turn to IT Smart Solutions for help. We will help you organize ODC in Eastern Europe and provide a range of services at once (IT Staff Augmentation + Back Office BPO) or separately.